Permaculture Design Course
Friday 23 February – Saturday 10 March 2018
Are you looking to create a more sustainable lifestyle?
Meet like-minded people?
Retrofit your house, your community and your life?
Become less dependent on big business and supermarkets?
Design a resilient system in the face of growing uncertainties?
The course
A PDC can be a life changing experience. Join us in the unique environment of the Rocklyn Ashram and be taught by a mix of experienced and enthusiastic permaculture tutors including David Holmgren.
This is a fully residential, fully catered course running over 15 days with a short break in the middle. This is a completely immersive experience.
The course will be structured around Holmgren's 12 permaculture principles (detailed in Permaculture: principles and pathways beyond sustainability) and goes beyond land-based design, bringing permaculture to all aspects of human living.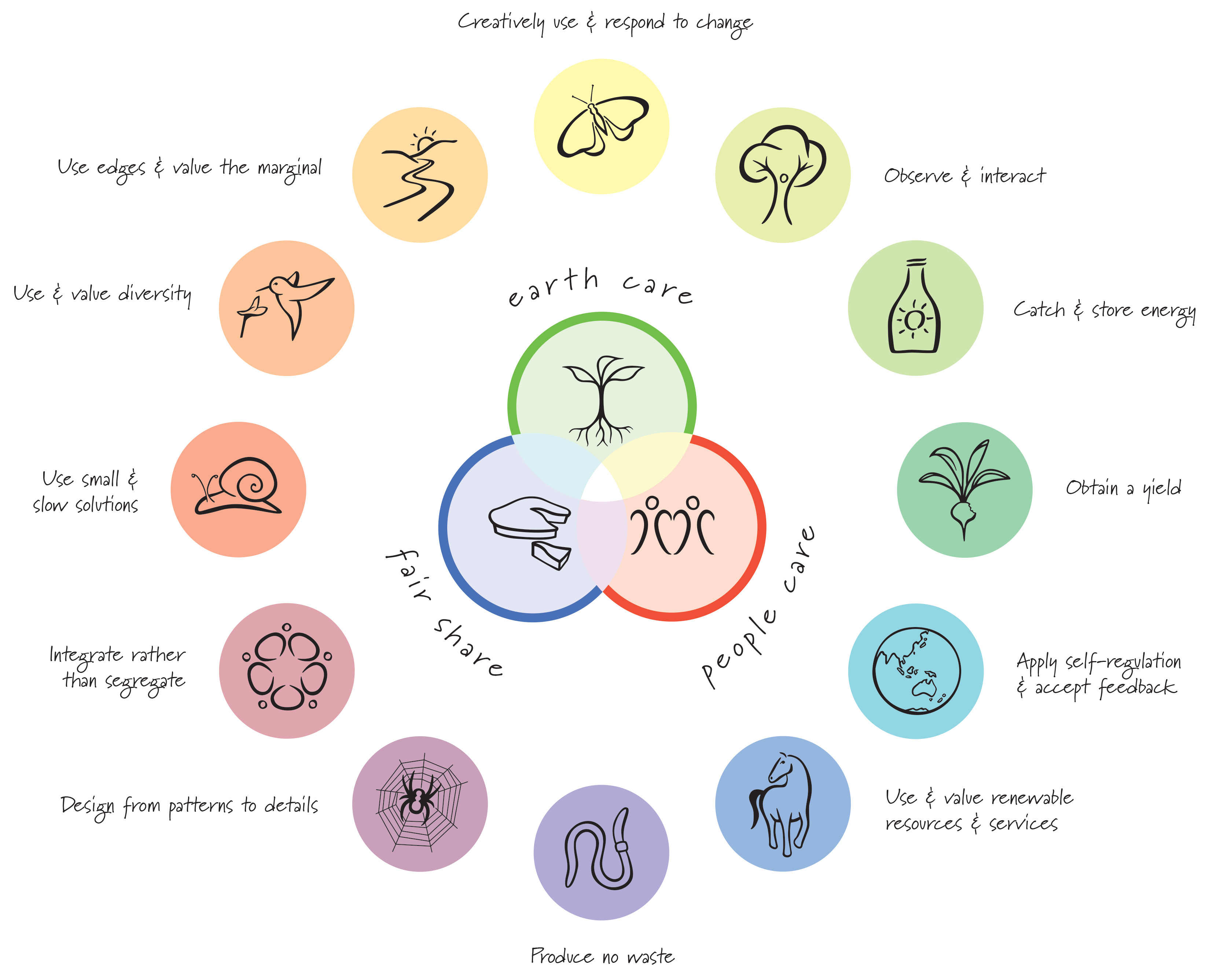 The venue
The course will take place at the Rocklyn Ashram, nestled in the Wombat Forest near Daylesford in Central Victoria. Only a one and a half hour drive from Melbourne, you will feel like you are in another world. Beautiful and quiet, this special space creates an ideal learning environment.
Taking part in the ashram's daily yoga program can further enhance your learning and enrich your experience. The ashram environment exemplifies and provides an experience of living by permaculture ethics. The serene and spiritual focus of the ashram complements the mindfulness of permaculture practice and reminds us to balance our activity and think with reflection.
Accommodation is camping in the grounds of the ashram. You will need to BYO tent and gear. Alternatively you can choose to stay in a gender segregated triple share dorm room or a private room. Please note, these last two options incur additional fees.
At times the ashram program and the intensity of the course can seem challenging, however almost all of the participants comment that the benefits continue long after the course ends.

The food
Delicious, wholesome and ethical meals will be prepared by Su Dennett and the ashram's kitchen volunteers. Su will make sure that what you eat meets permaculture standards. Items will be sourced from local organic and bio-dynamic growers in a living example of using and maintaining sustainable food supply networks. You will be served vegetarian meals together with the ashram residents.
Tutors
You will learn from the co-founder of permaculture, David Holmgren, and a team of excellent permaculture practitioners and educators. Their depth of practical and theoretical knowledge will make this a very special PDC. There will also be opportunities to socialise with the presenters outside of session times.
Prerequisites?
There are no prerequisites for this course, but it is recommended you read the Essence of Permaculture if you have not yet done so. All other titles and writings by David Holmgren are highly recommended for those who have read Essence already. Please have a look through our online store or visit your local library.
Course content
This course will equip you with the foundations of permaculture. You will learn permaculture ethics, principles and design, and their application across the domains, so that you can integrate them into all aspects of your life.
Topics include:
permaculture ethics and principles
ecology and natural cycles
weather and climates
soils
permaculture food growing
energy literacy
reading the landscape
appropriate technology
built environment
design processes and practices
animals in permaculture
health and spiritual wellbeing
urban retrofitting
finance and economics
community strategies
The classroom experience will be complemented by field trips to working permaculture farms, homes and gardens including one of the best documented demonstration sites, Melliodora.
You will work on a design project of part of the ashram during the course. You will be guided by experienced tutors and learn the fundamentals of permaculture to design the world you want.
Payment and extra charges
| | | |
| --- | --- | --- |
| Item | Fee (AUD$) | Due |
| Non-refundable deposit – Australian participant | $500 | Upon enrolment |
| Remaining course fee – Australian participant – earlybird | $1700 | Friday 1st December 2017 |
| Remaining course fee – Australian participant – full fee | $1900 | Friday 26th January 2018 |
| Course fee – Australian / Overseas participant – earlybird | $2200 | Upon enrolment, before Friday 1st December 2017 |
| Course fee – Australian / Overseas participant – full fee | $2400 | Upon enrolment, before Friday 26th January 2018 |
| Payment fee via PayPal | 3% | With payment – per transaction |
| Gender segregated, triple share room | $2475 | $2275 earlybird price |
| Private accommodation at the Ashram | $3450 | $3250 earlybird price |
Is there a concession price?

Applications for the concession rate have now closed.
* * *
Still have questions? Please read through our FAQ page.
Bookings now open!

If the 2018 Ashram PDC sounds like it's for you, fantastic! Please secure your place by registering.